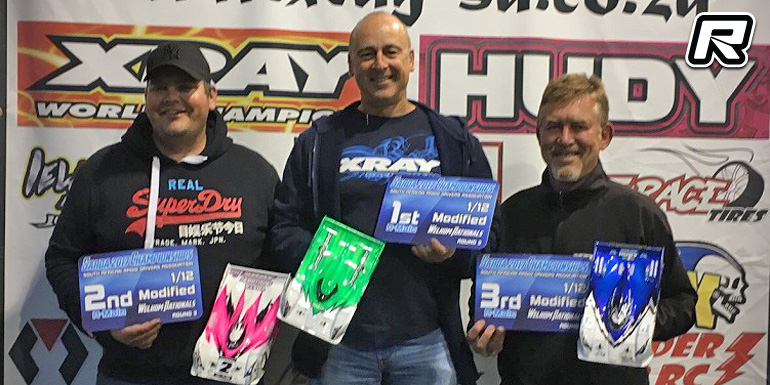 The third round of the 2017 South-African ORE 1/12th national championship series was held at the Welkom RC Arena this past weekend. With a tight 2017 RC racing schedule in South Africa some of the 1/12th drivers could not participate in the event but all the championship contenders were present for the four qualifying rounds and three finals. Most of the drivers arrived Friday for some practise and setup on the fast and very high traction track. Practice on Friday showed that the local Antonio Caroli and newcomer Hein Kotze would be drivers to beat in Modified and youngsters Brandon Solomon and Francois Laubscher in the 13.5T blinky stock class.
In 1/12th scale Modified Antonio Caroli showed great pace from the first qualification round and managed to secure the TQ spot with fast and consistent runs. Hein Kotze pushed hard and managed an easy 2nd place on the grid with André Greeff starting from 3rd into the finals. In the mains it was Antonio who set the pace, winning both A1 and A2 with Xray team mates Hein Kotze securing second and André Greeff completing the podium. The TQ and win also gives Antonio Caroli the national title for 2017 with still two rounds remaining.
1/12th scale Modified final results:
1. Antonio Caroli – Xray
2. Hein Kotze – Xray
3. André Greeff – Xray
4. Willie du Plooy – Xray
5. Shaun Schutte – Xray
6. Francois Laubscher – Xray
7. Wade Solomon – Xray
8. Garreth Hayward – Xray
9. Anthony Smith – Xray
10.Brandon Solomon – Xray
The Stock class is still growing with lots of interest from new drivers to participate in the future events. The qualification rounds saw current championship leader Francois Laubscher having a tight battle with his Xray team mate Brandon Solomon but it was Brandon who secured the TQ in the last qualifying run with Wayde Solomon securing 3rd place on the grid. During the main races Francois Laubscher managed to win both A1 and A2 with Brandon and Wayde closely behind. This win also gives Francois Laubscher the 2017 title with still two rounds remaining.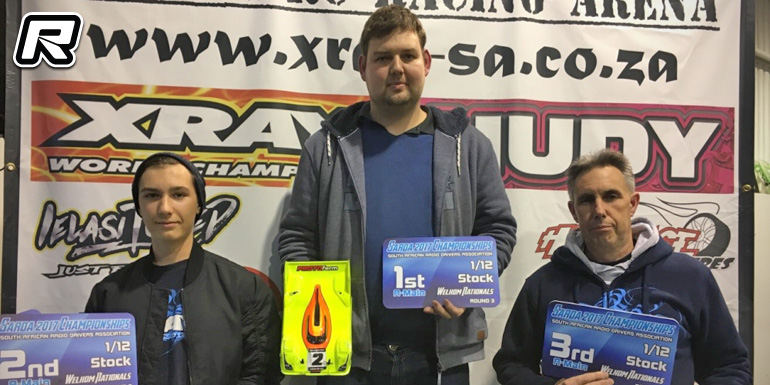 1/12th scale Modified final results:
1. Francois Laubscher – Xray
2. Brandon Solomon – Xray
3. Wayde Solomon – Xray
4. Jonathan Wilken – Xray
5. Patrick Lester – Yokomo
6. Gerry Esterhuizen – Xray
7. Bianka Landman – Xray
8. Petrus Wasserman – Xray
9. John Fitzsimmons – Schumacher
10.Anthony Smith – Xray